Moms-to-be have very unique needs. If you're wondering what to give a pregnant woman. Keep on reading! Here's a list of gifts for pregnant women that future moms will actually use and love!
This guide of gifts for pregnant women is separated into 4 sections: Books, Baby Care, Moms-to-Be, and Breastfeeding. Each section has a list of items you can choose from, they come in all prices and sizes.
At the end of the list, you'll see a carousel with all the items, in case you want to scroll down and skip to the end.
These are all super useful items. This is not your average "gift guide," it's made by someone who has been there, by someone who knows what's useful and thoughtful and what's not! This is the ultimate list of for pregnant women!
---
Books
I know, I know… a book!? Really!?
But, hear me out. Pregnant women usually love reading about pregnancy, and babies, and newborn care, and breastfeeding, and Harry Potter (Nah, just kidding with that last one, I just happen to love Harry Potter.)
Books are highly enlightening and help relieve some of the stress and mystery that comes with the whole bringing-a-child-to-the-world thing.
The Bump Pregnancy Planner and Journal
Ok, so the first "book" on the list isn't a book.
It's even better!
It's a scrapbook/journal!
You can track pregnancy milestones in it, you can take notes of baby names, you can write notes to the baby, track your doctor visits, paste photos of your bump. And… it explains everything!
Yes, everything. Month by month. The size of the baby, what to expect in the doctor appointments and what milestones you should be completing each phase.
This journal is information meets personalization. And it's not only informative, it's cute, and a keepsake at the same time! Definitely one of my top gifts for pregnant women!
The Mama Natural Week-by-Week Guide to Pregnancy and Childbirth
Defined by many happy moms as the best pregnancy book ever, I was expecting a high-value guide.
Not only did this book live up to my expectations, but it also surpassed them!
I couldn't completely have a natural pregnancy and labor due to my high-risk pregnancy, but I went to the natural side whenever I could, and this book was my guide.
It contains weekly recipes for your pregnancy, a clean health routine free from toxins, information on natural labor, all you need to do about epidural, natural cures for pregnancy symptoms and labor pain, and so much more!
It applies to every pregnancy. Even if you're planning a C-Section (I had a C-Section), or if you're not planning on breastfeeding, you'll profit from this book to some degree!
Real Food for Pregnancy: The Science and Wisdom of Optimal Prenatal Nutrition
What's better than a complete guide to eating healthy during your pregnancy?
A complete guide to eating healthy during your pregnancy that's backed by research, and written by a registered dietitian.
If you're planning on gifting a pregnancy nutrition book, this one is the right one! It's different than everything you can find out there and in a good way!
Every bit of information is backed by solid research, and told by someone who has been there before. It's practical in its approach to nutrition, filled with options to fit in every lifestyle. It even comes with meal plans!
Baby Care
Here are two awesome, super useful gifts for the newborn baby that are also great gifts for pregant women.
I'm staying away from the traditional diaper kits, and newborn clothing, because I'm guessing that if you're here, you're looking for something more original.
So here are a few thoughtful gifts for moms-to-be that they will definitely use and enjoy!
Baby Monitor
There's a lot of debate on whether new parents should use a baby monitor or not.
I can only talk from my experience.
There's nothing like feeling peaceful knowing that your baby is doing just fine. And the Owlet monitor does just that, it is much more than just a monitor.
As a mom to a preemie, and as most new moms, I was obsessed to check that my newborn was healthy.
At all times.
Even at nights.
Even when he was sleeping right next to my bed.
To me, the Owlet monitor means peace of mind. This is a doctor validated monitor. It comes with a Smart Sock that tracks your baby's breathing pattern, heart rate and oxygen levels.
It will send an alarm to your Smartphone if something is wrong, and you can check your baby's vitals anywhere!
ErgoBaby Bundle
My sister gave me this one as a gift when I was pregnant.
It made my life so much easier!
Strollers take up space and are sometimes difficult to handle. Baby carriers are so much more practical.
Don't get me wrong, I did have a stroller, in fact, I still do.
But I used the baby carrier much more during my son's first six months because:
My baby fit snugly in my chest and was more protected from the environment and friendly strangers.
I needed to run hands-free errands, and bringing the stroller would have meant me leaving my baby unattended for a few seconds while I filled forms.
My back suffered much less from carrying my son this way (after all, I had just had a C-Section!)
Ergobaby's newborn baby bundle includes:
The 360 carrier: good from 0 months (with an Infant Insert that also comes in the bundle) to 48 months! That's 2 years! My son is 2 and a half years old and we still use it. He's tiny, though.It offers every position available to carry the baby. You can adjust it to hip carry, back carry, or front-carry your baby. It also has a privacy hood with SPF protection!
The infant insert: to hold babies from 0 to 4 months in the 360 carrier.
Teething pads for your carrier: So that your carrier is protected from your baby chewing, and that your baby has a soft place to chew and place her cheek. Trust me, this is a real problem!
Infant Swaddler: To give your baby a peaceful sleep, and soothe baby colic pain. It also comes with a removable leg pouch so that you can change your little one's diaper without removing the swaddler.
Baby sleeping bag: good from newborn to 6 months, with adjustable shoulder and 100% cotton. It also has a zipper so that you can easily change your baby's diaper without removing the sleeping bag!
For Moms-to-be
Organic, comfortable, natural solutions to ease pregnancy-related everything!
Moms-to-be will be happy to feel pampered and taken care of, and they should!
You'll see some of Earth Mama's products in this section, and I simply can't recommend them enough!
I'm not claiming that my pregnancy was all-natural or anything, but Earth Mama's products did help me get there!
A Little Something for Mama to Be Pregnancy Kit
This is a pampering kit for moms-to-be!
It's a zero-toxin care package that pregnant women use and love!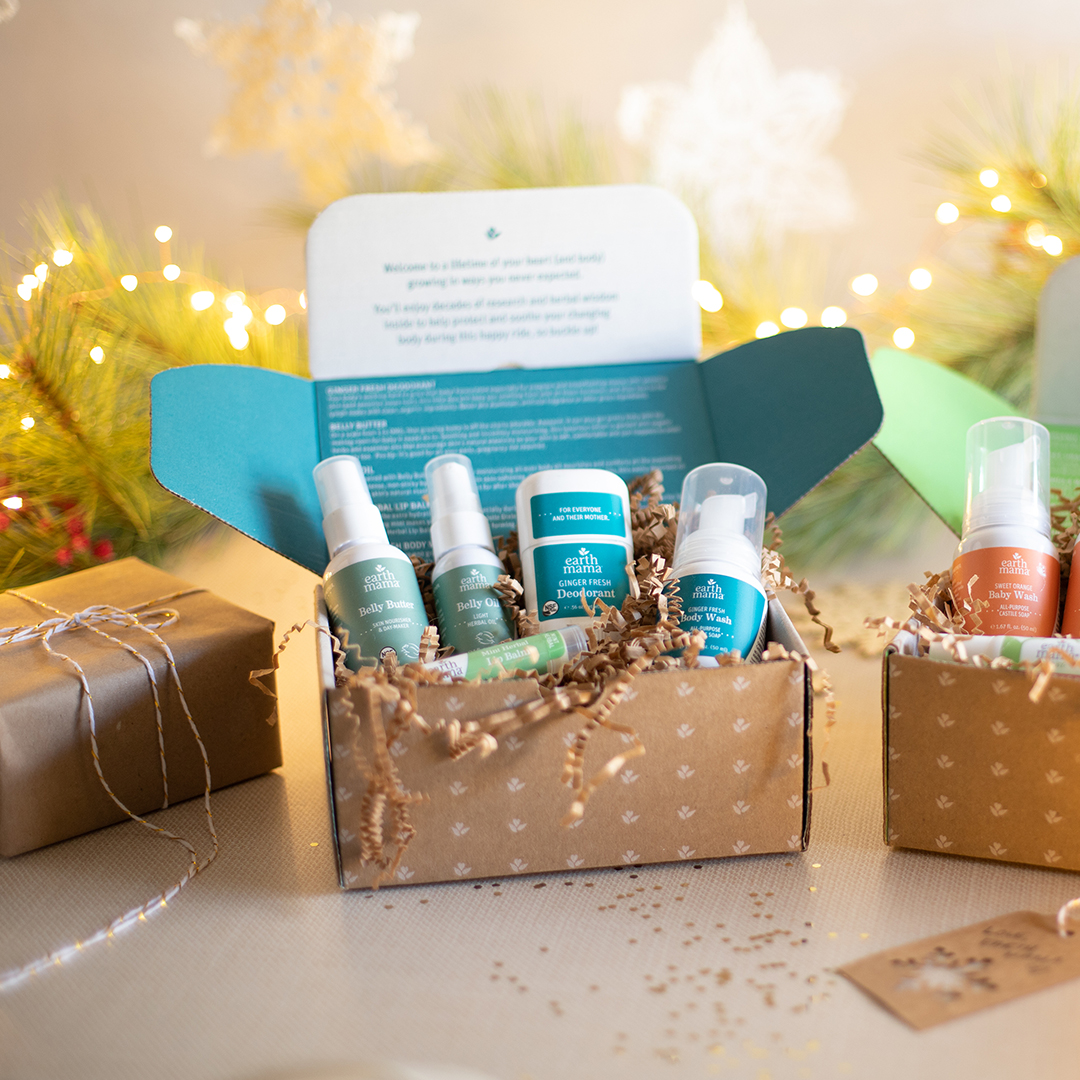 The package contains:
Lip Balm: For smooth lips 24/7! Made without petrolatum, synthetic flavoring, or artificial colors. No artificial preservatives, and certified by Oregon Tilth.
Belly Butter: Dermatologist tested and clinically tested for irritation. Doesn't contain petroleum, mineral oil, parabens, or artificial fragrance.
Belly Oil: to soothe the stretching skin of a pregnant belly! As with the belly butter, it's dermatologist tested and clinically tested for irritation. And it doesn't contain petroleum, mineral oil, parabens, or artificial fragrance.
Pregnancy & Breastfeeding Deodorant: It has the baking soda-magnesium balance to fit sensitive skins.Without any toxic ingredient in it! It's organic, dermatologically tested and clinically tested for irritation. And it doesn't contain propylene glycol, artificial fragrance, parabens or aluminum.
Morning Wellness Body Wash: To smell good, and ease the morning sickness with its gingery smell! It's also completely natural, no artificial fragrance, parabens or propellants.
It's one of the perfect gifts for pregnant women!
Organic Third Trimester Tea
This third-trimester tea is made to supply the unique needs during the third and fourth trimesters.
And yes! It's good for breastfeeding, too!
By drinking from 1 to 3 cups per day during the third trimester, those uncomfortable late pregnancy cramps will go away!
It's a blend of stinging nettles, chamomile, rosehips, oat straw, and red raspberry leaf.
Great to get you ready for labor! This fragrant mint herbal tea is non-GMO verified. And it's packaged with love, you'll see a happy little love note with each tea bag to brighten your day!
Pregnancy Heartburn Tea
Another magic tea from Earth Mama!
This organic tea will alleviate your pregnancy heartburn almost instantly!
It doesn't contain GMO. It's a soothing mellow blend of marshmallow root, lemon balm, chamomile, and spearmint. It's safe to drink during pregnancy and during breastfeeding!
You can drink from 1 to 4 cups a day – checking always with your doctor – to solve indigestion, reflux, and heartburn!
Non-skid slippers
Most people think about gifting clothes, but, usually, women feet swell and hurt a lot during pregnancy!
Super comfy, super cute, non-skid slippers to use during pregnancy. You can also take them to the hospital for a more comfortable hospital stay!
UpSpring Morning Sickness Drops
One of pregnancy's most uncomfortable symptoms is "morning" sickness. The intensity, time, and duration of the nausea are unique to every pregnancy.
But, except for those lucky few who don't feel it at all, it can be truly incapacitating.
Enter morning sickness drops.
I'll be honest with you, these drops work for some pregnant women but don't work at all for others.
In my case, they worked some days, and some days they didn't. But, for the days that they did work, it was completely worth the purchase!
After all, it won't hurt to try it out!
For Breastfeeding
Ergobaby Natural Curve Nursing Pillow
I can't stress enough how much I loved and needed my nursing pillow when I was breastfeeding my preemie.
It's one of those things which use you don't understand until you actually breastfeed. And the truth is, breastfeeding is hard.
But nursing pillows make it a lot easier!
An Ergobaby's is one of my favorites! I recommend it 100%!
It adapts to your body and your baby's body. Mommies don't need to slouch, and newborns fit snugly!
The Ultimate Breastfeeding Course… Online!
Learning about breastfeeding can be overwhelming, to say the least! But there's a simple, easy and inexpensive way to do it!
Milkology is a place where you can learn to breastfeed… online! It's a video course full of resources taught by a certified lactation consultant.
You will learn:
The benefits of nursing.
The Lactation and Milk Supply Process.
The techniques for latching and positioning your baby.
The techniques for expressing and storing your milk.
Know what to expect with you and your baby.
Finding support.
And LOTS of bonus downloads!
You can access The Ultimate Breastfeeding Class by Clicking here.
Booby Tubes
Ah! The complicated science of milk production…
Heat helps to avoid clogged ducts, encourages milk flow, promotes let-down, and eases the symptoms of infection. While cold can help reduce the tenderness and swelling of engorgement and weaning.
And this little handy product can provide both heat and cold to the breasts!
This unique breast pack is gel-free, made from organic cotton and filled with fresh, pliable flax seed. You can freeze them in the freezer or heat them up in the microwave. They are practical and toxin-free!
Organic Milkmaid Tea
Does it really work?
Yes, it does!
It's not magic, but it's very close. If your let-down is doing good and you want to increase production, this tea will do the trick!
Don't use it during pregnancy, though, this is a breastfeeding-only product. Breastfeeding mamas can drink this organic, no-gmo tea from 1 to 3 cups a day to increase milk production.
Organic Nipple Butter
I couldn't live without my nipple butter.
Breastfeeding is hard on the nipples, and the butter helps prevent and soothe any breastfeeding discomfort.
The thing is, the nipples make direct contact with your baby, so we need to mind whatever we use to ease the pain. This is way the more natural nipple butter we use, the better.
And you can't go more natural than Earth Mama!
As everything Earth Mama, the Nipple cream is dermatologist test and clinically tested for irritation, and it doesn't have petroleum, parabens, or lanolin.
Breastfeeding moms can apply it after each feeding and before pumping to prevent irritation. Liberally apply it to ease the pain as well!
Gifts for Pregnant Women Shopping Guide:
Here's the complete shopping list, in case you decided to skip to the bottom of the post, click on any picture to shop for each item!
[slide-anything id="1229″]
That's a Wrap!
There's an original and useful list of gifts for pregnant women! Is there something you'd like to add? Please let me know in the comments below!
If you enjoyed this article, please share it or pin it, I appreciate your support! Thank you!
---
Want to Get FREE PARENTING RESOURCES? Get Access to my Parenting Resource Library by Clicking Here!
---
The Baby Milestone Guide!
A comprehensive printable guide with milestones, warning signs, and general information about your baby from 0 to 24 months old, totally free!
---
Follow me on Pinterest for more great content!
Enjoyed this article? Please share it or Pin it!
[DISPLAY_ULTIMATE_SOCIAL_ICONS]